(3 minute read)
In our previous article, we discussed why this "pens down" period might be the ideal time to reflect upon internal processes and the opportunities that may exist to improve them. Here, we hope to highlight the 'everyday' documents which are strong contenders for automation which have traditionally been overlooked.
Today we will discuss :
Return on investment is everywhere
A great place to start thinking about this is to consider which documents you have worked on, opened, or attached to emails in this past week. Of these documents, which of them are you likely to work on or open again next week? Chances are, despite their importance, you're not sending out share purchase agreements or facility agreements week in, week out!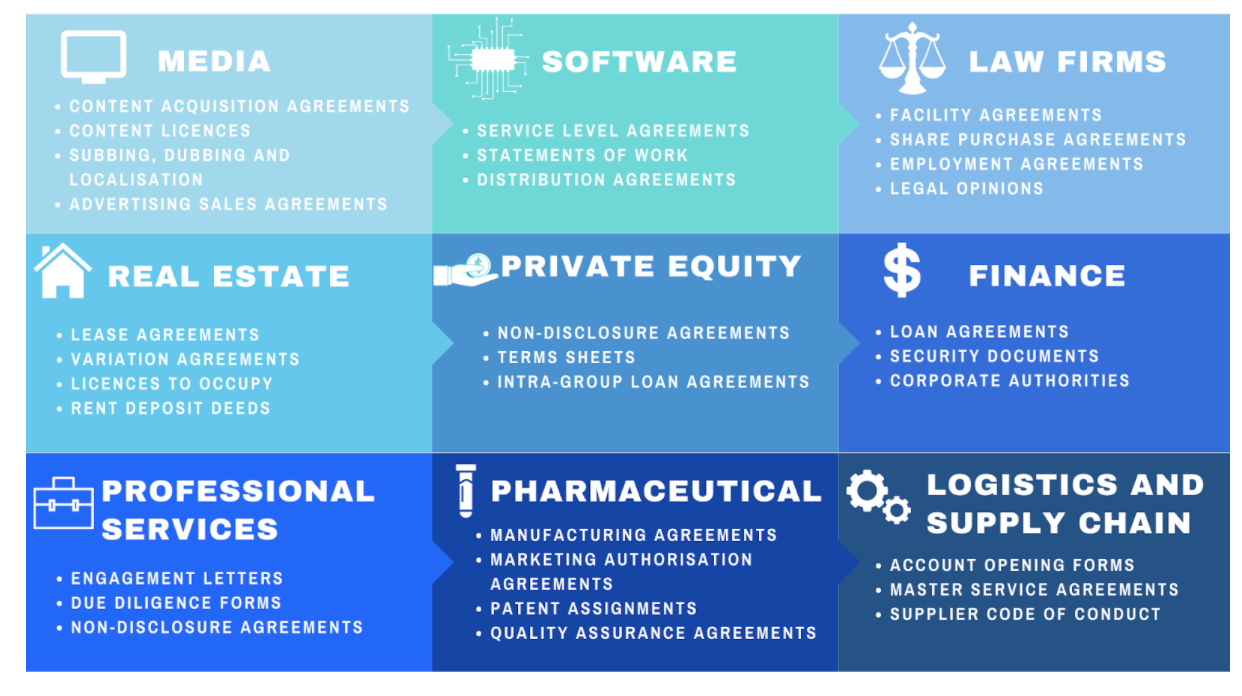 However, despite the infrequency of their use, we typically find that these 'core' documents have been historically favoured for automation. The reason for this is about return on investment: the time investment of using legacy automation software, characterised by "coding", means it has generally been the preserve of the core revenue-hitting documents, even if they are not drafted on a daily or weekly basis.
Consequently, all of the 'non-core' ancillary documents being utilised on a daily basis were forced into the shadows of automation projects because they did not offer a sufficient return on investment from a time-utilisation perspective.
However, with Avvoka and the other new technologies on the market, businesses now have the luxury of choice since the requirement to learn a coding / mark-up language in order to automate is rapidly becoming a thing of the past. This means that the barrier to entry for automation is now incredibly low, making it accessible to everyone. Thanks to this shift, documents that would be "nice to haves" from an automation perspective become viable candidates to template.
Non-core but key documents
Set out below are documents that are great candidates for automation which don't necessarily fit into the camp of "core documents", but whose automation greatly aids drafting efficiency:
Intra-group agreements (SPAs, asset transfer, assignment, novation agreements)
Company secretarial (board minutes, shareholder resolutions, notice of meetings)
HR documents (employment, notice of transfer, termination and option agreements etc)
IP transfer documents (licence, franchise agreements)
We would hedge our bets that you are far more frequently acquainted with these types of documents on a weekly basis!
These documents are often required en masse and are manually reproduced on many types of transactions. Whilst they may not be revenue-generating heroes, their automation would free up the time of many individuals within an organisation, allowing them to do more valuable pieces of work, and offer greater procedural simplicity.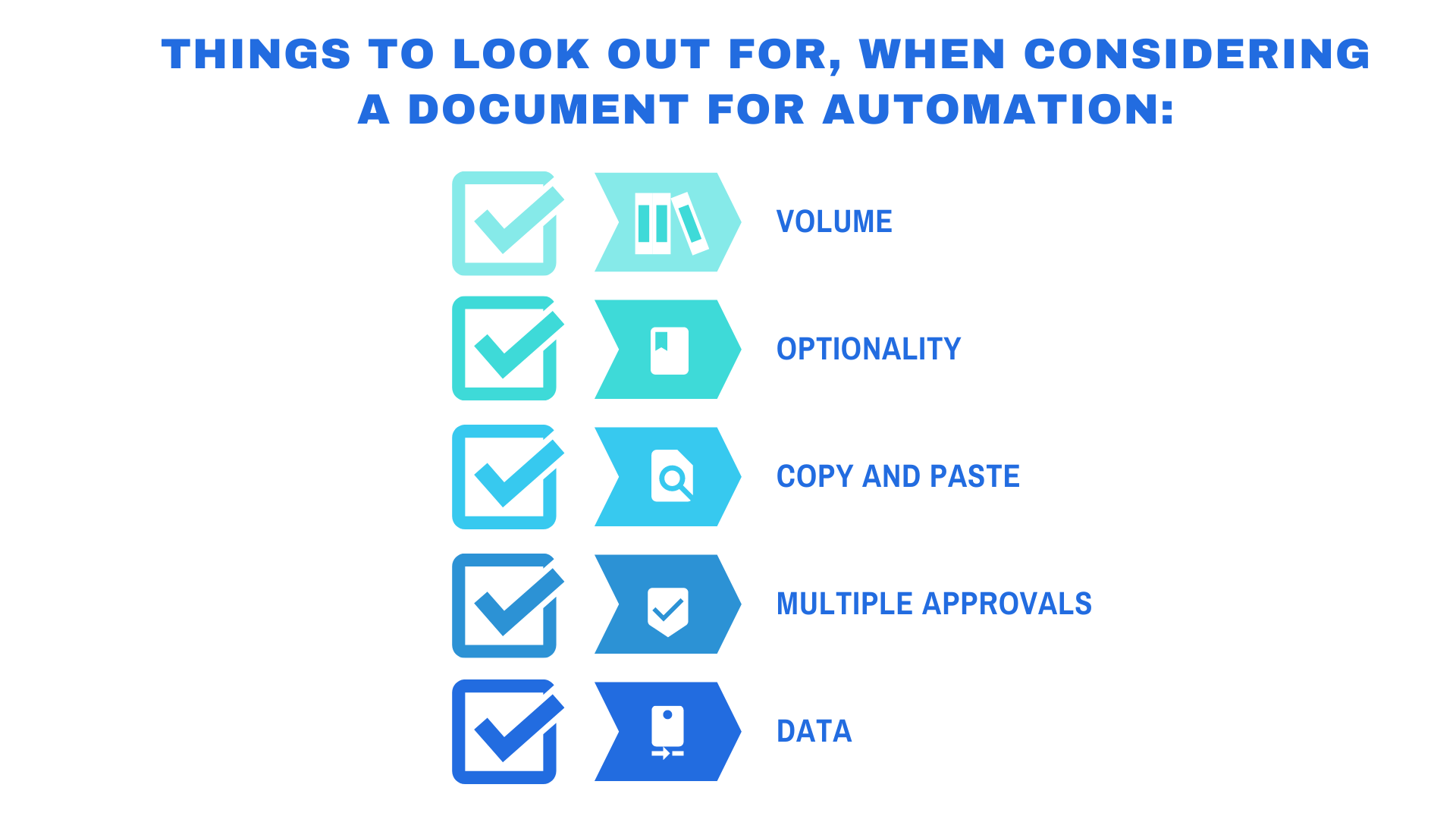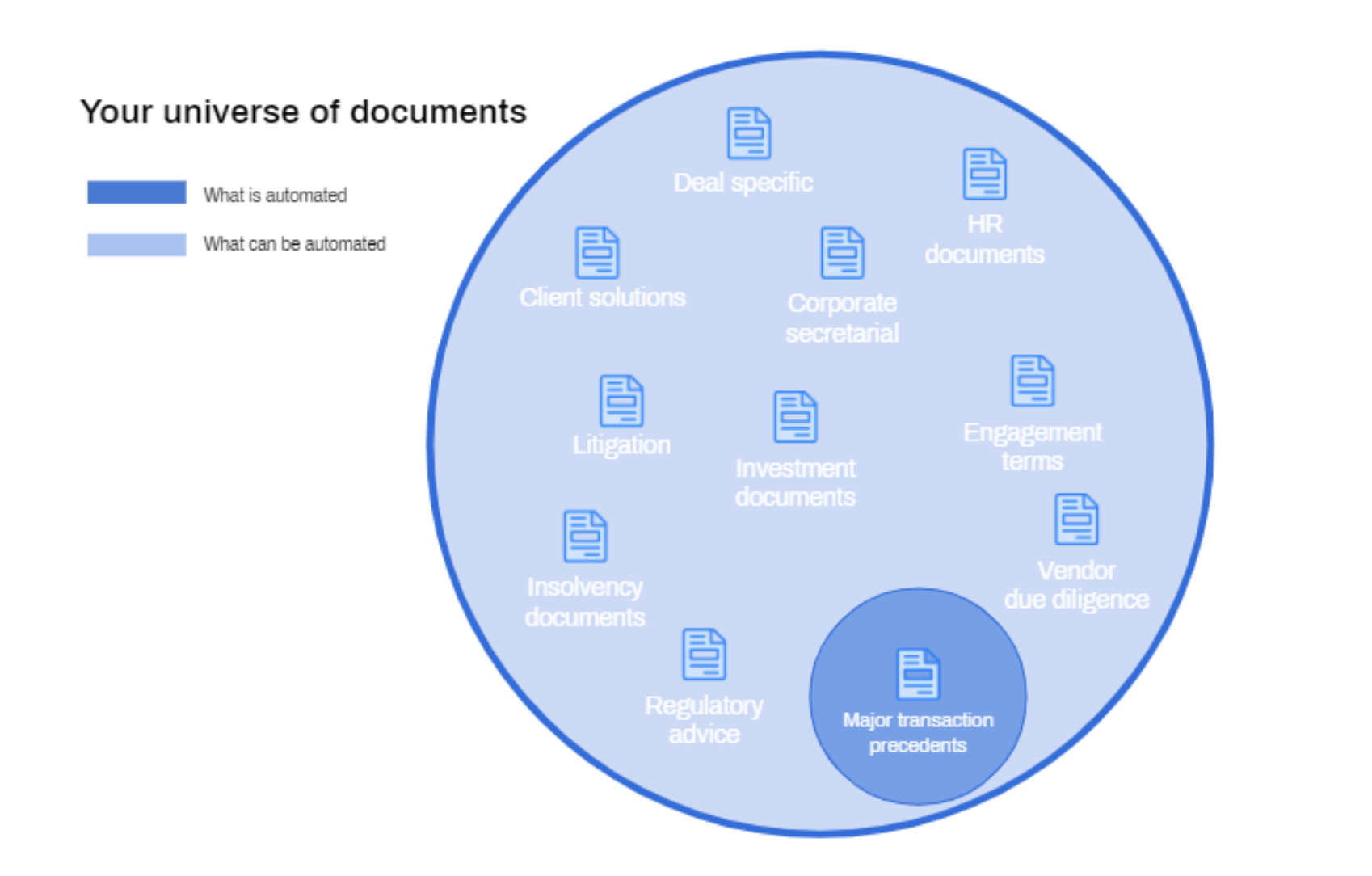 An explanation of how documents can be mass-generated is set out in the Appendix
Automation of forms?
Contract automation doesn't always have to involve contracts! You could automate almost any type of document. Although it might sound odd, automation tools can rapidly assemble forms that businesses are required to complete on a regular basis. The time savings are excellent but, even better, is the fact that data can be captured in the form and sent straight to another software application (with the right API calls, of course).
Here are some other examples of documentation not traditionally viewed through the "contract automation" lens but which are well within the scope of modern tools:
KYC documentation, information security and vendor due diligence forms
New account opening forms
Multi-jurisdictional questionnaires, for gathering local counsel advice on large-scale matters
An example of a form use case is set out in the Appendix
Appendix
Mass-generate functionality
On Avvoka, users are able to mass-generate documents from a single source to further increase efficiency gains on these non-core documents that we have outlined in this article.
Our mass-generate functionality is achieved by:
Automating a template on Avvoka
Leveraging our Excel builder, which transforms the automated questionnaire into an xlsx file that can be downloaded to allow users to input data
Completing the downloaded Excel file: each column is used to produce a new document
Once the Excel file is completed, this can be re-uploaded into the system. Avvoka will then produce a document for each column of data contained in the Excel file
This offers huge efficiency gains and procedural simplicity for these run-of-the-mill documents.
Using the Excel spreadsheet

Form Automation
The image below shows a standard account opening form which has been automated in Avvoka. Forms are such a great document to automate on the platform because of the ability to route the automated form to numerous different teams and departments within an organisation, as well as having the ability to send the forms out to counterparties.
Example Form Automation