(4 minute read)
Avvoka 2.0 is officially here! We're so excited to introduce the newest version of Avvoka, something that everyone on the team has worked incredibly hard on for many months. We've been collaborating closely with our existing clients to implement their feedback and expand the functionality of the platform to make sure that they can get to "yes" even faster.
There are two key areas of the system that we've been focusing our efforts on:
Templating: This is where the magic happens! Templating is where you turn your standard form documents into automated templates using our no-code logic. You can also use our workflow builder and the related documents function to bring your offline processes online too.
Editor: After you've created your automated template you can begin generating documents via the questionnaire. Then you can use the Avvoka editor to mark up the document, track your changes, collaborate with colleagues and negotiate with colleagues – all in one place.
We'll use this article to highlight our top ten favourite changes to the system across these two areas of Avvoka Version 2.0 :
1. Automation Suggestions
2. Speed
3. Track Changes
4. Comments Filtering
5. Tasks
6. Clause Library
7. Version Tracking
8. Workflows
9. Analytics
10. Advanced Operations
You can watch the full trailer of Avvoka 2.0 on our Youtube channel.
1. Automation Suggestions and Error Scanning: Always get it right.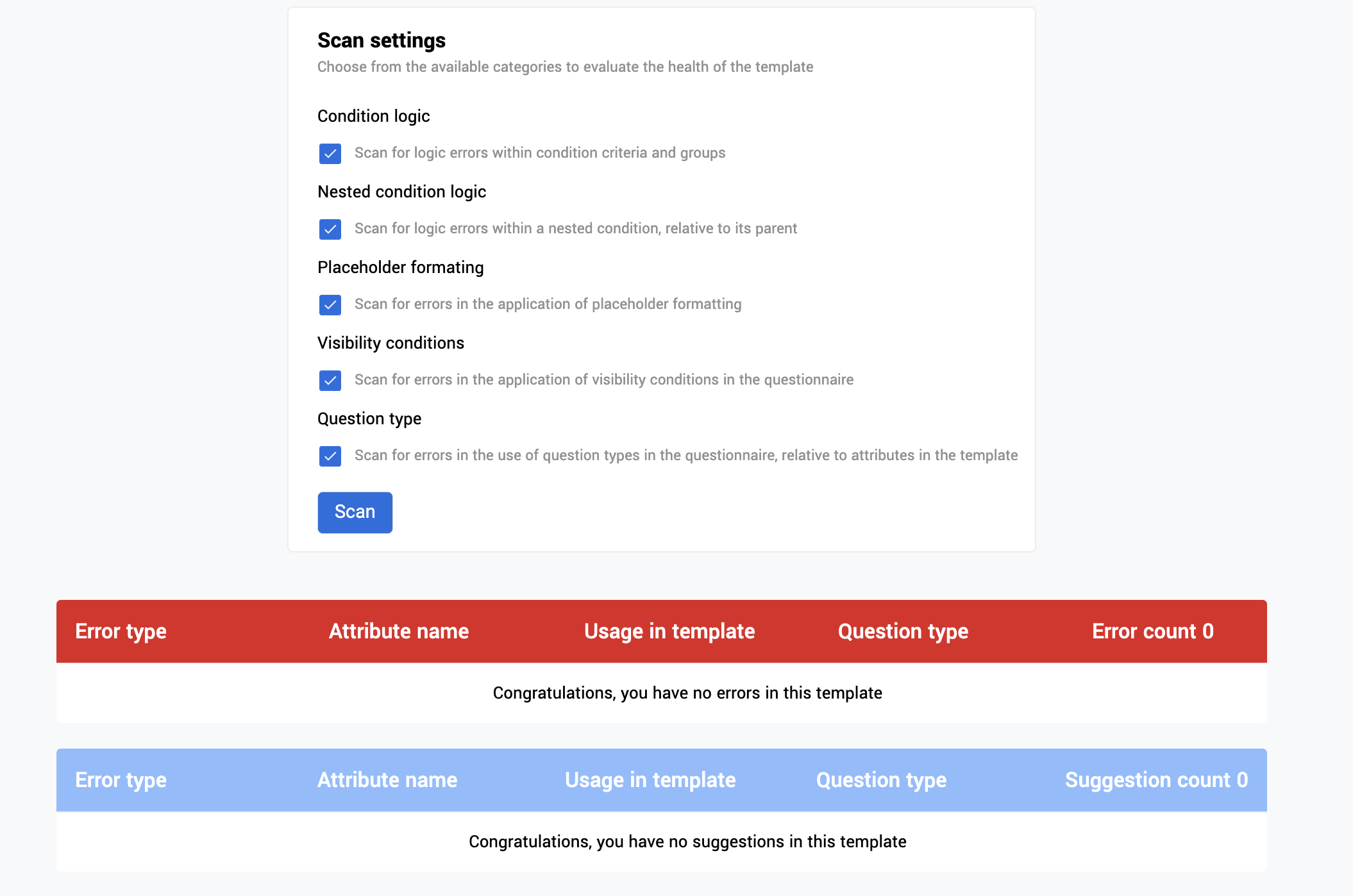 Even though templating on Avvoka is simple and intuitive, sometimes it's still easy to make human mistakes in the logic of your automation. We're introducing comprehensive scanning checks to help you spot and correct those errors easily.
Why? We brought in this change because we know that sometimes you need a helping hand to figure out how your automated document is operating, or how to reduce the length of your questionnaire while still asking the right questions. We are committed to continue making automation more intuitive and user-friendly!
2. Speed: Don't let anything slow you down. Avvoka Version 2.0 is 800 times faster. Yes, you read that right. While a 300-page agreement may have previously taken a little while to load, it now loads in less than five seconds.
Why? Well, that one is easy. Avvoka is the best platform for automating the most complex documents. We wanted to make sure that we had the speed to match this claim. Avvoka has the speed to support you even with your most sophisticated documents.
3. Track Changes: Don't miss anything.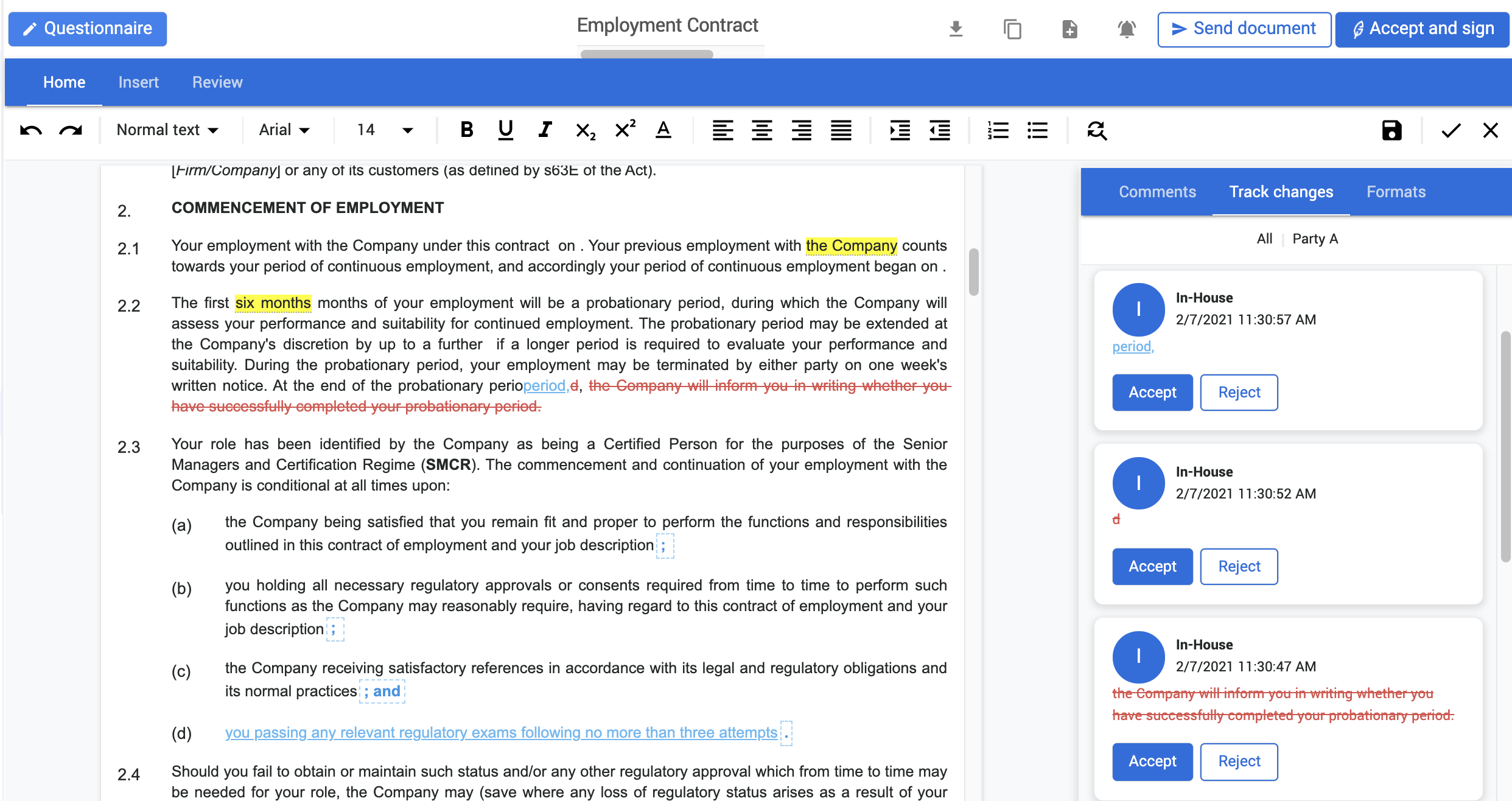 While track changes has always been a feature on Avvoka, they have a new look. Instead of having to click on individual changes to see who made them, you can view them all in our brand new sidebar.
Why? We know that working in the editor needs to be flawless, and we want to ensure that the process of working in Avvoka is as close as possible to what our clients are used to. This leads to a smoother user experience and makes the contract review process much easier.
4. Comments Filtering: Collaborate and negotiate seamlessly.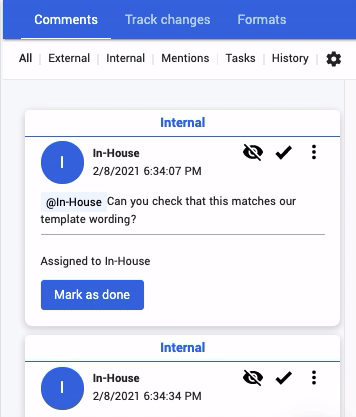 You can now filter by internal and external comments as well as mentions, tasks, archived comments, and track changes.
Why? This update makes it easier to navigate through the comments on your documents, especially as our clients start to use Avvoka more and more to iterate back and forth on complex documents with both collaborators and counterparties. Also, at Avvoka, we have safeguards that ensure that you will never accidentally let an internal comment slip to the counterparty.
5. Tasks and Mentions: Supercharge your collaboration.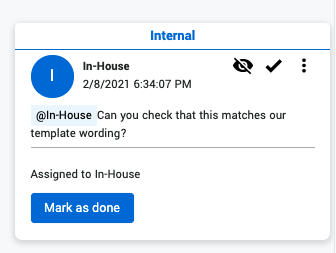 You have always been able to mention collaborators or counterparties in your comments to draw their attention to a specific issue, but now you can easily convert a mention into a specific assignment for them to complete. Say you want your colleague to create some bespoke drafting in one of your clauses, you can assign a task to them so that they know to complete it.
Users can see all tasks assigned to them and quickly make their way through their to-do list.
Why? Because contracting should be this easy. Rather than ping-ponging back and forth and sharing comments through emails and endless versions, you can work in one place where all versions of the document are automatically saved. This eliminates confusion and drastically speeds up the negotiation process.
6. Clause Library: Make your automation more powerful and easier to update.

On Avvoka, you can store your commonly used clauses in our clause library, and update them from there with a single click.
Clause library also allows you to store commonly used clauses in one central location and to instantly update the same clause in multiple templates at once. This reduces the time you need to keep your precedents up-to-date.


The best part? You can add automation to your clause library clauses too, meaning that they are just as powerful as the clauses already in your individual templates.
Why? We know how important it is to our clients to be able to insert different variants of their most commonly used clauses. We've worked closely with them to make sure that this feature is what they need to ensure successful negotiation and document creation. We also know how important it is for our clients to be able to easily maintain and update certain clauses across all their templates; clause library allows you to do exactly that in one central location.
7. Keep track of every version of your documents: Stay in control.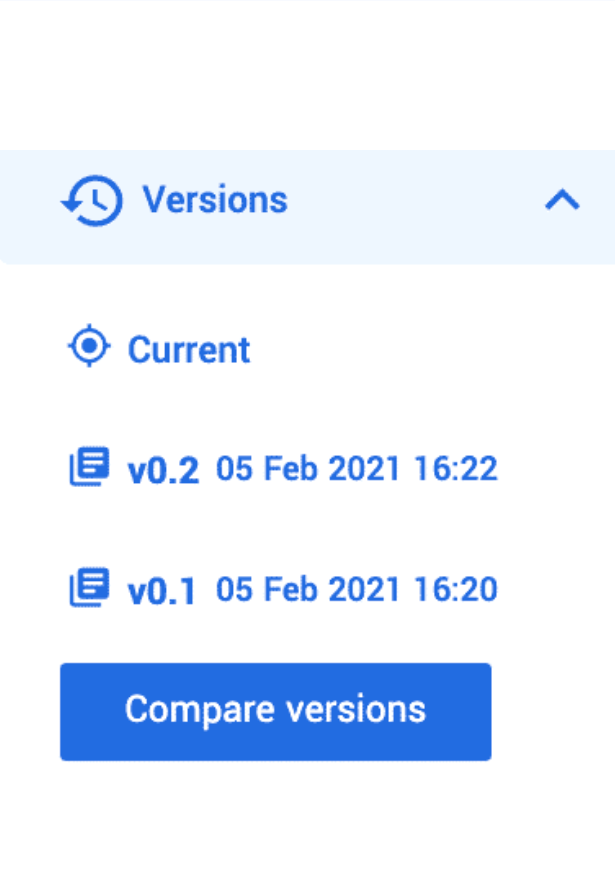 Keep track of every version of your document in one place on Avvoka. Instead of email ping pong and working with multiple different versions of one document, you can keep your negotiations all in one place with a comprehensive audit log. You can trackback through your documents anytime and view historic versions to see what changed and when, and by who.
Why? Our clients now have full control and visibility of their documents and can conveniently monitor every single change. This feature improves the audit process and makes it much more efficient. Comparing documents and creating redlines has never been so simple!
8. Workflows: Bring your offline processes online.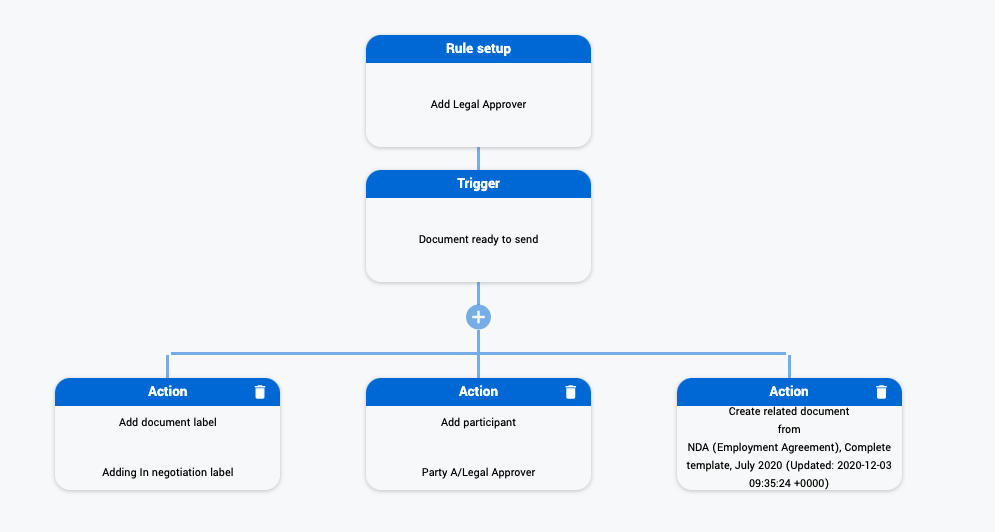 Another area of the system that's been improved in Avvoka Version 2.0 is the workflows function. You can now hinge a menu of actions on different triggers (like adding a document approved upon the initial creation of a given document). You can also block certain functions like e-signing or downloading a document until you a particular approval is granted, or invoke the creation of a specific document based whether certain commercial terms have been invoked in another document.
Is the deal value over a certain risk threshold? Automatically add a legal approver. Does an answer to the questionnaire set off red flags? Instantly create an approval request with further questions. With Avvoka 2.0 you can now create complex workflows in an easy and intuitive way). There are no limits to what you can achieve.
Why? From speaking to our clients we know how important it is to bring your offline processes online, and with our workflow builder, you can do just that.
9. Analytics: Generate valuable data insights.

With Avvoka 2.0 your data is more powerful and user-friendly than ever before. You can clearly see what is in your contracts in real-time with our data tracking and reporting. Our platform allows you to add structured data points into contracts through automation. The result is a contract portfolio that's ready for analysis at any point.
Build better first drafts by surfacing negotiation flashpoints and provide alternative playbooked clauses from within the templates. You can also keep track of what's market and visualise negotiation patterns across document portfolios.
Why? We know how powerful your data can be, and we make it simple for you to take control of it. Track how key clauses are being marked-up. Analyse, report on and repaper your documents using our platform. You can perform on-the-spot due diligence of every single document drafted on the platform. Unleash the power of your data with Avvoka!
10. Advanced Operations: Go beyond simple automation.
With operations you can take your templates to the next level, applying complex logic to any data in the template. We've introduced new and more advanced operations to bring your templates to the next level.
Using operations you can limit the number of questions that you're asking the user. Say for example you know that the first payment date is on the 5th of December, well we can use the dependent list operation to find each subsequent payment month. Or if you have a single template for multiple regions, you can use operations to make sure that the formatting complies with the jurisdiction that the end-user is in.
Why? We love seeing what our clients can do with operations, and we wanted to give them the power to achieve even more. By introducing new operations they are able to transform their data and create incredibly powerful templates.
What's next?
Avvoka has an exciting roadmap for the rest of 2021, with a few exciting announcements coming soon. A lot of our features will be improved further as we work closely with our clients to continually refine the platform and ensure that it meets their needs and suits how they get their work done.
We're excited to keep implementing the feedback we receive as we continue to prove why we're the best in the best in the business for document automation, online collaboration and negotiation, and analytics. You can watch the full trailer for Avvoka 2.0 here.
Read more from Avvoka:
By: Amy Conroy