THE ULTIMATE GUIDE – Document Automation 2023
Everything you need to know to help you on your document automation journey.
This guide will tell you everything you need to know about document automation, planning and executing a document automation project, and how document automation can help your business work more efficiently and get to "yes" faster. 
What is document automation?

Automation is using technology to reduce the human assistance required for a specific task or process. In document automation, the drafting of a document is automated. Bespoke documents are created using answers to a questionnaire or data imported from another system.
In document automation systems, users build what are known as 'template' documents. These templates incorporate rules that dictate the inclusion, transformation, or deletion of text, based on particular inputs (like questionnaire responses). 
Some document automation tools also include workflow management functionality. Document workflow management allows other processes, not relating to the document's drafting, to be layered into the template. For example, users can configure documents, so approval requests or follow-on tasks are triggered where specific document terms or properties are included.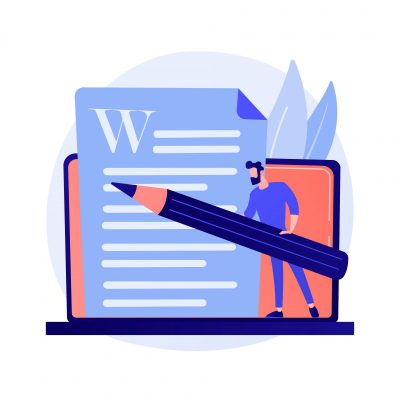 Automation is mostly about efficiency. Automation helps users to create documents faster and makes sure they're created perfectly every time.
The two main categories of document automation benefits are: functional and commercial.
Functional benefits
Here's a run-down of some of the functional benefits that automation brings:
Speed!

It's why most people think of automating documents in the first place. Automation speeds up drafting single or several documents at once:

Creating a

single

document from an automated template is made rapid because the provisions that may, or may not, need to be included are curated for you ahead of time. No more square bracket tinkering!

Authoring

multiple

documents using document automation is faster because automation tools can create bulk batches of similar documents. Some tools can even mass generate many different types of documents at once – invaluable for big deals.

Consistency.

 In document automation, you can restrict users' edits to predefined fields (which can also contain validation). Computerised documents have fewer errors than free-drafted ones. Fewer mistakes mean less review!

Minimise re-keying

. Most commercial documents are completed using data from other sources like term sheets, excel files or other software. A well-structured automated document can automatically import such data from elsewhere. Automated data importation means less double-entry of data, fewer mistakes and better productivity.

Data

. Document automation helps you to keep your documents orderly and their commercial variables structured. The result is a living, breathing due diligence report! Run reports on your documents anytime and see summaries of their commercial terms they contain and what's becoming market.

Audited approvals

. Your automated documents can be configured to incorporate (and speed up) your internal approval processes. Suppose someone tried to input a particularly aggressive interest rate into your automated loan document. In that case, you could set up your document to automatically send a warning notification to finance. Automation paves the way for safe, compliant and auditable documents.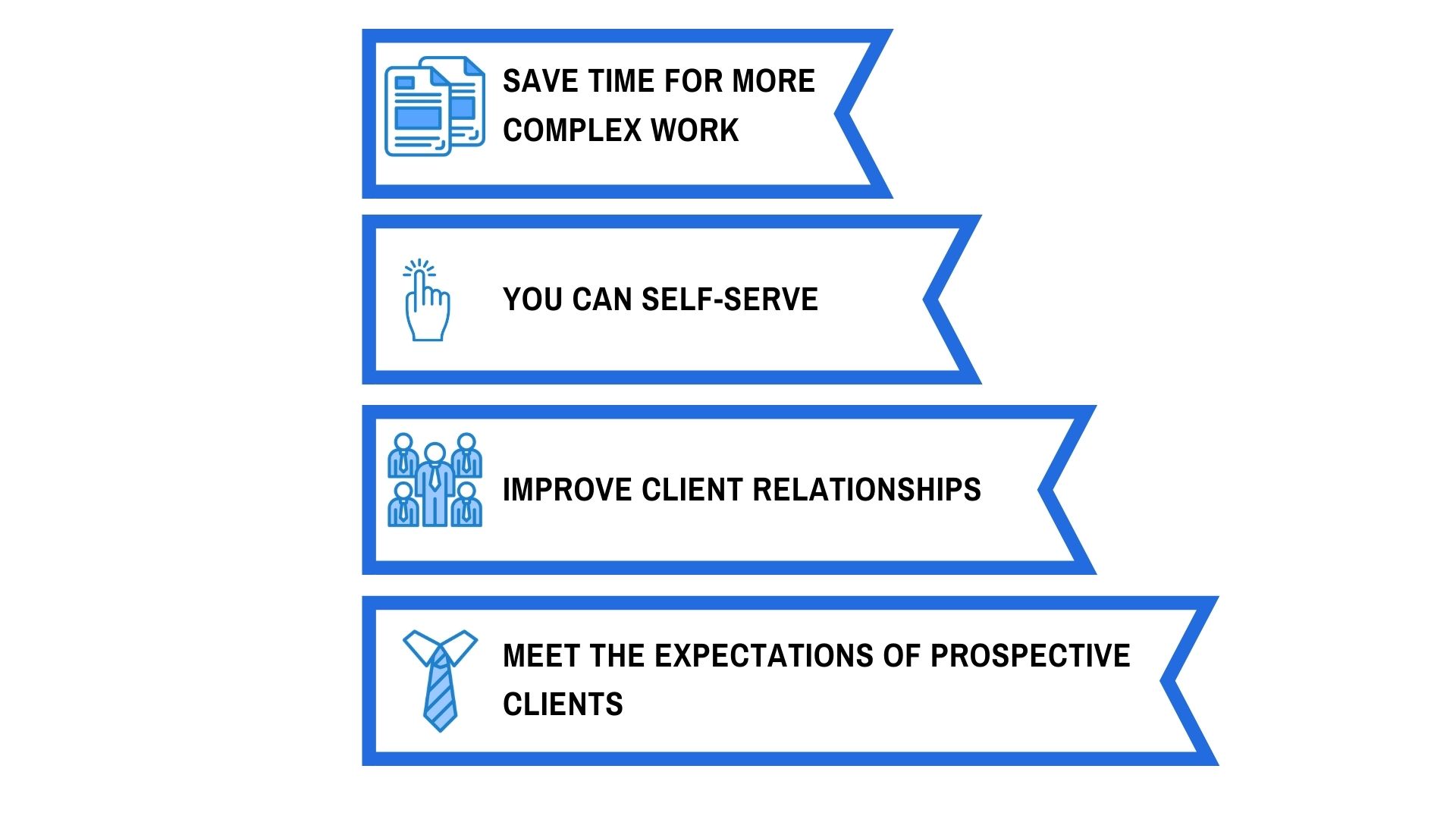 Many of the functional benefits come down to saving time and generating documents in a safe, audited manner.
The more commercial reasons to automate your documents are:
More time for complex work

.

Teams with more time can work more on complex and high-value tasks. More high-impact work empowers employees to add more value to clients. You'll increase your organisation's efficiency, and your teams won't be stuck doing the more repetitive work.

User self-service

. Business users can assemble automated documents themselves quickly, safely and auditably.  Legal involvement can be reserved for only where drafts go 'off-piste'. Self-service limits internal back-and-forth and leads to quicker deal negotiations and less stressful lawyering!

Improved client relationships and experiences

.

Clients expect work to be completed quickly and correctly, which is a hard balance to strike when you are manually writing documents from scratch or copying and pasting the content. Automation provides a very cost-effective method of rapidly delivering quality documents.

Meet the expectations of prospective clients.

Legal Tech and document automation software have developed rapidly over the past couple of years. Many clients are beginning to expect a smooth user experience as a result of tech advances. Having an easy-to-use online platform they can use to generate their documents will ensure they keep coming back.
Where Does Document Automation Fit in the Legal Tech Landscape?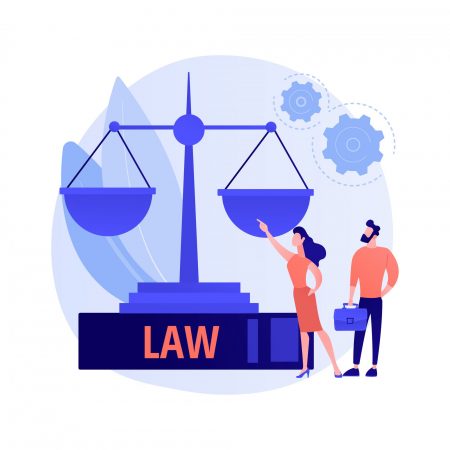 The world of Legal Tech is continually evolving and growing. While the innovation rate has been impressive, figuring out the technology that will work best for you can also be an overwhelming prospect. Before we dive into covering document automation in further depth, we think it would be useful to explain how it fits into the broader Legal Tech landscape.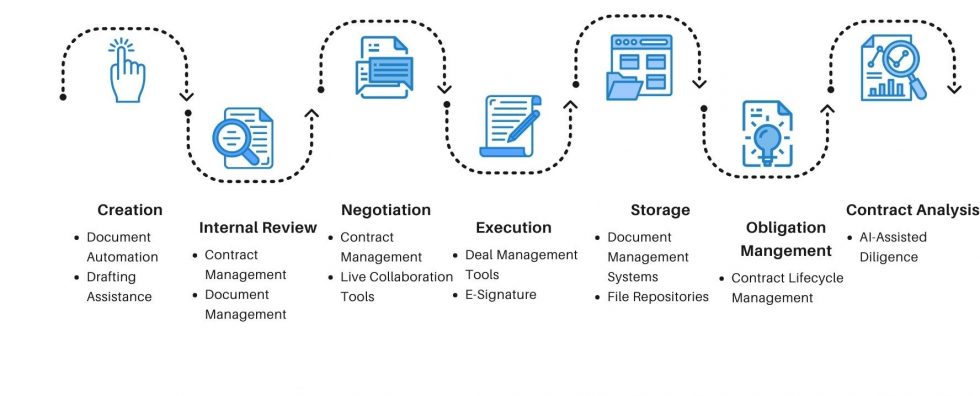 How are different industries using document automation?
One common misconception is that automation solutions are limited to only the law firms (and the upper echelons of firms, at that!). Document automation, in varying degrees and forms, is used in various industries and businesses.
Most commonly automated documents (by industry)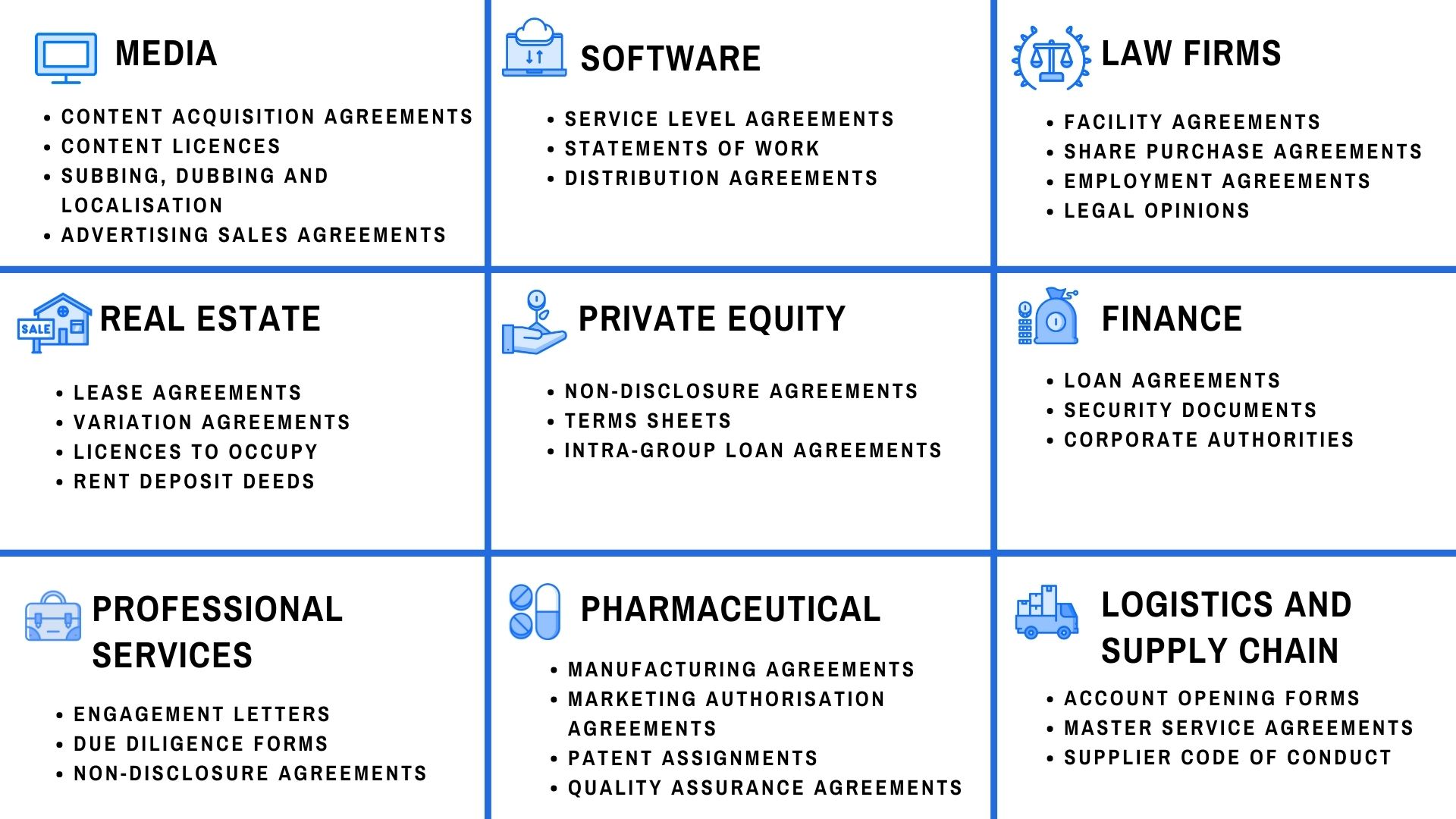 Use cases, across sectors
Zooming out even further, across all sectors, here are some of the different use cases that core users of automation tools have put them into action:

Which documents can I automate? 
You could automate almost any type of document, but it doesn't mean they all should be! The most successful automated documents and those that generate the most significant ROI are typically used repetitively and require some customisation. When you automate, you should consider the following elements: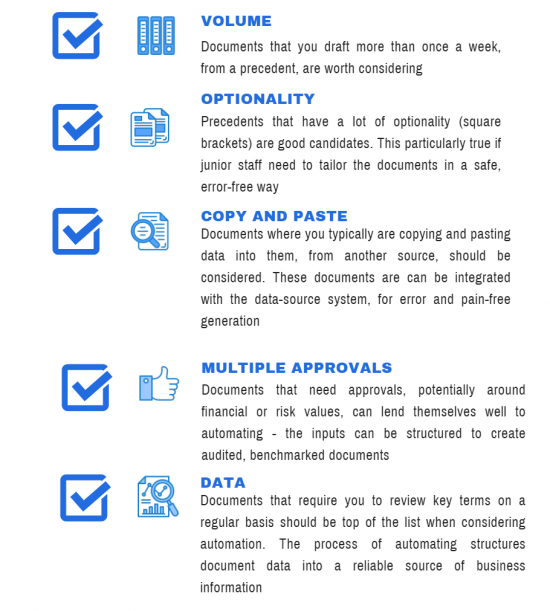 As with any exam, the more ticks, the better – try applying our checklist to your documents to see if they will be worth automating!
Automation beyond core precedent documents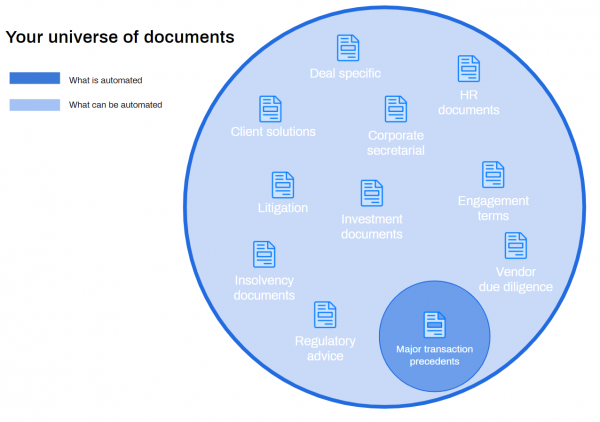 'Non-core' documents tick many of the boxes in the previous section. Automation is not just the preserve of key precedents, and there's ROI to be had across a spectrum of ancillary documents.
Some examples of ancillary documents that we think are great candidates for automation due to their repetitive, structured nature are:
Intra-group agreements (SPAs, asset transfer, assignment, novation agreements)

Company secretarial (board minutes, shareholder resolutions, notices of meetings)

HR documents (employment agreements, notices of transfer, termination and option agreements etc.)

IP transfer documents (licence, franchise agreements)
We bet you are far more familiar with these types of documents than some of the other 'core' documents traditionally associated with automation!
These documents are often required in bulk and are manually reproduced on many types of transactions. While they may not be revenue-generating heroes, their automation would free up the time of many individuals within an organisation, allowing them to do more valuable pieces of work, and offer greater procedural simplicity. 
Automation beyond documents: forms!
Continuing the theme of recognising great candidates for automation outside of core precedents; why be limited to sticking to documents at all? Many modern automation tools can automate procedural forms that businesses enter into regularly.
The time savings are excellent but, even better, is the fact that data can be captured in the form and sent straight to another software application (with the right API calls, of course). Additionally, approval workflows can be layered directly onto the form to ensure triaging things like financial approvals.
Here are some other examples of documentation not traditionally viewed through the Legal Tech "document automation" lens but which are well within the scope of modern tools:
KYC documentation, information security and vendor due diligence forms

New account opening forms

Multi-jurisdictional questionnaires (for gathering local counsel advice on large-scale matters)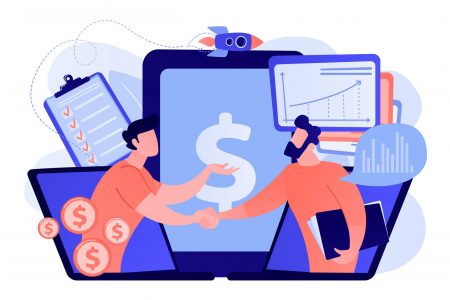 The Road to Automation – Your Own Project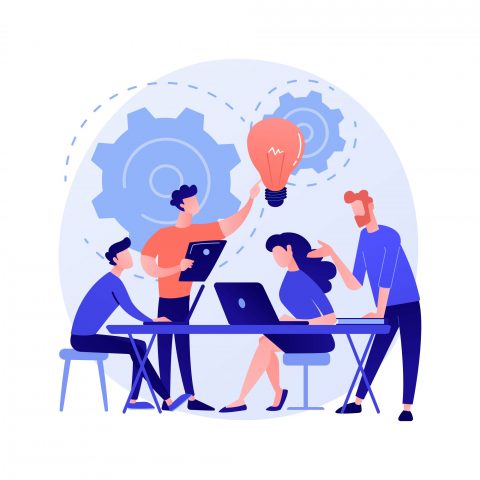 So, now you know what document automation is, and why you should use it. But how do you go about implementing document automation at your company? Before you start, you must spend time planning your project. 
At Avvoka, we've created the 'Automation Canvas' to help you plan your automation project before you get started.
The canvas has seven key sections. The idea behind the canvas is that it will help you think through the entire project and any challenges you may encounter. The Canvas is not supposed to be a 'project plan', but an ideas board, where you can brainstorm the critical themes of your upcoming project. 
The canvas sections are:
Aims

Timelines

Documents

Approvals

Stakeholders

IT

Rollout

practicalities 
1. Aims
Automating your documents can ensure your team is working efficiently, and available for higher-value work. Therefore, your overall aim will be to implement and integrate your chosen solution into your existing business methods successfully. On top of that, you need to establish why you are implementing the automation solution in the first place – establishing your why will help you gain approval for the project.
A successful tool is one that saves you time, rather than costing you time once implemented. You should be looking for a document automation solution to fit into how your business already works and isn't a pain to use. If your solution doesn't integrate with the other tools you already rely on heavily, then it may be a lot more effort. 
You should identify what you aim to get out of the tool you are implementing. Your what is especially relevant when you are identifying different solutions that work well for your business. Are you interested in using an end to end tool, which sees the document through to completion? Or, are you just interested in automating the process of drafting the document in the first place? Other tools also include contract analytics, general document analytics, or negotiation on their platforms. It is essential to understand which features your business would get the most out of, and how it would help you achieve a more efficient workstream. 
What about your actual automation project's aims, and why do you need to implement automation in the first place? Identifying what you hope to see as a result of your implementing a document automation solution from the outset will help you identify and meet identifiable goals. 
Implementing automation can help you reduce drafting errors for the first draft to complete your different documents. Anything from small typos, to inconsistent naming conventions. Implementing your automation project can help you to address these errors by adding in additional checks in the questionnaire, and filling in one question for multiple data points across the document. 
You should also be looking to improve efficiency across your organisation. Identify the parts of your current workflow that are slow and could use improvement. From that, you can establish how you will integrate your tool in your existing workflow to improve and address these inefficiencies as best as possible. 
Another aim of your project could be to track the data and push backs on your standard documents. If you know that tracking negotiation trends and outcomes is important to you, such knowledge can also help you narrow your search for an automation tool. It can also help you pick which documents you would like to automate first – to quickly begin identifying the benefits of the data analysis for your organisation. 
Identifying your aims from the beginning of planning your automation journey will help you prioritise the implementation and testing of the tool and even pick a tool. These are excellent things to bring up with your automation vendor essential too, to ensure that all of your aims will be addressed and met throughout the project.
2. Timelines 
The timeline is the most crucial question, and the most difficult one to answer accurately. Automation projects can last anywhere between two months to two years. The length of your project depends on a whole range of factors, including:
Number of documents to be automated

Automation complexity

How 'ready' are the documents to be automated
However, here at Avvoka, we like to break the project down into a few different parts. A pilot period is likely to be the first stage of your project, where you will test the project's implementation on a select group of pilot users. Document automation projects have the following steps: 
(a) Planning: Picking your documents, users, and confirming your basic requirements. 
(b) Document consolidation: Here's where you move beyond the small set of documents you worked with and begin to consolidate the documents into different groups, making it easier to generate typical templates. 
(c) Automation: The exciting stuff – when your documents actually get automated. Either you or a third-party will work on turning your documents into automated document templates. 
(d) Testing: Perform User Acceptance Testing, where a small user group can test the automated documents. Here you can also try the platform and any potential integrations of your new document automation tool with your existing tools. 
(e) Training: Begin preparing for a management change, from your third-party partner to your internal team. At least one team member should become familiar with the document automation software, to ensure they can train other employees internally. 
(e) Optional – Pilot phase: How long the pilot period lasts is between you and the software provider – but it's essential to ensure your pilot users have enough time to get comfortable with the software and provide valuable feedback so you can ensure that it is the right software for you. 
(g) Launch: You have an official handover from the software company to yourself. Now the product is officially ready to use! You can choose how you launch the tool, whether by business unit or through document grouping.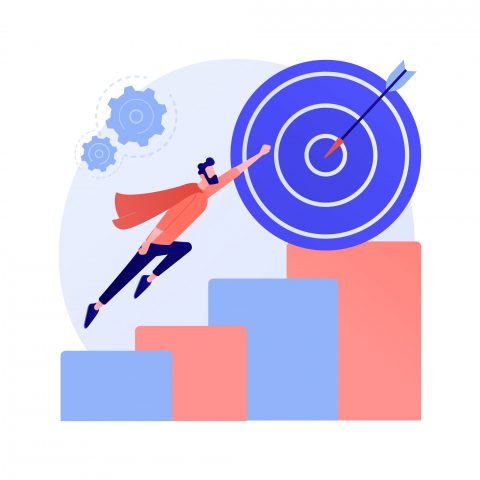 3. Documents
Which documents should you automate first?
While the vast majority of documents are ripe for automation, not all documents are made equal. Therefore, it is essential to identify the right contract types before starting your automation project. There are three main areas you should consider when selecting your contracts – try scoring each of your document candidates in these three areas:
Volume 

The contracts that are created most often typically benefit most from automation. Any saving that can be made per individual agreement can be multiplied across a large number leading to a great ROI. Contracts that fit into such a category are usually great places to start with any project.

Complexity 

The degree of complexity can be both a plus and a minus when assessing a candidate for automation. On the one hand, complex documents will take longer to break down into automation instructions and longer to automate. However, the amount of work that goes into the automation of a contract is also typically linked to the amount of time the given document would take to draft in your existing process. Therefore, these documents can be the showpiece of an automation project – taking a 4-hour drafting process down to just 5 minutes. 

'Readiness' 

All projects, automation or otherwise, need early success stories to build engagement levels. Suppose you have contracts that have already been rationalised, and instructions exist or could easily be created. In that case, these contracts should warrant serious consideration. The ability to quickly deliver a handful of automated templates at the beginning of the process will buy time and confidence to work through the larger documents.
When selecting documents to automate, the key point is to avoid those that only apply to limited, and particular circumstances. Documents with limited uses are not ideal for automation. On the other hand, if you have multiple types of documents that vary in small sections, then automation may be the perfect solution to consolidate these documents and work on them as one. You must evaluate where your colleagues are spending the most time and which documents are best suited for automation to realise your document automation tool's full benefits.
The biggest tip we can give is not to go overboard initially – start with small, and don't worry about covering every potential document type from the beginning. 
4. Approvals
You'll need to get the project signed off by the right people. 
Before starting any project, speak to colleagues to find out what approvals they needed. Every company will be different, but the most typical permissions you will need will be:
Budget approval

– the preliminary approval you will need to gain is likely from the budget holder, or head of your finance department. It's vital you clearly communicate your project's aims, the potential ROI, and timeline. 

Information security

– do you have an in-house information security team? If so, the chances are they will need to sign-off that the technology you plan to use is safe.

IT

– there will be some overlap with the information security team. In general, you will need to ensure that the planned technology will 'fit in' with everything else you currently use.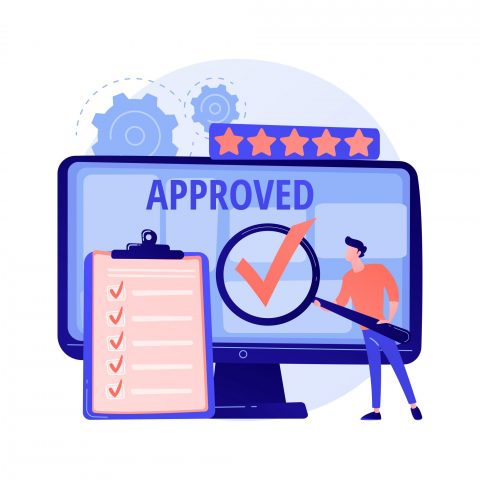 5. Stakeholders
Stakeholders will often include the key people involved in the decision-making process above. However, it is also much broader than that. Stakeholders are anyone impacted by the project or have an interest in the project. The key stakeholders will vary depending on your type of business, whether the stakeholder is a legal document automation project or a commercial one. Common stakeholders typically include some of the following: 
End-User:

The person that will be working with your new document automation tool. Their primary concerns will be the effect on their long-term role and how it will disrupt their current workflow in the medium-term. The critical thing to do to reassure them is to highlight the tool's efficiency benefits and noting that it won't replace their job!
Project manager:

Is this you? The project manager  role will be dependent on your company. It is whoever is in charge of deciding the budget, timeline and scope of the project. The project manager will act as the liaison with the software company, so it's vital to ensure they are in constant communication with the other stakeholders to address concerns and issues promptly
Finance/Budget holder:

They hold the keys to the budget for your organisation. It's essential to convince them that the document automation tool's implementation will represent a good return on investment worth the money. 
IT director:

The person in charge of technology at your business. It is vital to ensure you reassure them about the need for document automation, critical use cases unique to the firm, and how much money implementing the tool will save you in the long run. These are points your third-party partner can help you with, ensure you're getting enough documentation from them!
Internal communications:

The internal communications team will be responsible for helping ensure that the rollout is a success – ensure you are communicating with them at every stage of the process and especially in the run-up to the release of the product in your company. They will help change opinions and ensure that everyone is on board for the successful implementation!

Legal sponsor:

Unique to in-house or law firm document automation projects, you will want to get a senior lawyer involved in the project as one of the key stakeholders. They will help you work with smaller teams and help push the software's release amongst their teams. It will be vital to get feedback from legal teams on how these documents should be automated, so it's a great idea to involve the relevant people as early as possible.

Commercial sponsor:

A roleunique to in-house automation projects rather than law firms. You should include stakeholders from each part of the business using the automation tool. These systems need to work for everyone, and there is no point implementing a tool that the legal teams love, but the business teams don't – and vice versa. 
The best tip for stakeholder engagement is to involve the key people in the process as early as possible! Find out who needs to be involved, and ensure they stay informed throughout the process.
6. IT
There will almost certainly be a few IT issues throughout your project, but don't worry as they can all be overcome. At the planning stage, you should alert IT to your key technical concerns for the project/. If you do, IT can help you quicker if your concerns are realised. There are even more challenges being introduced for most projects in today's current work from home climate.
Be prepared to face a few technical issues when beginning your project, and ensure you plan and prep your users that a few hiccups could come up. Especially in the current work-from-home environment, some users will be faced with slow internet, the need to use a VPN, and specific browsers being incompatible with your chosen document automation system. 
The best way to overcome these issues is to plan. Ensure you have a comprehensive guide (either your own or the software provider's) listing every single IT requirement needed. Having a guide ensures your users are ready to use the software.  Planning should encompass, ensuring that users have:
downloaded the appropriate browser

understood how using the new software will fit in with their existing working life; and

can provide what is needed from them
Also, be prepared for things to go wrong. Technology has the annoying habit of sometimes doing the exact opposite of what you want it to do. Suppose you remove expectations that the initial stages of using the product will be seamless. In that case, you are much more likely to handle the technological interruptions well when they do it. 
While making preparations for technical interruptions ensure you communicate well with your software provider to understand the level of technical support they provide – and how to access such support. If the documentation automation tool is open source and is something you are implementing yourself, you'll need to ensure who you can ask questions.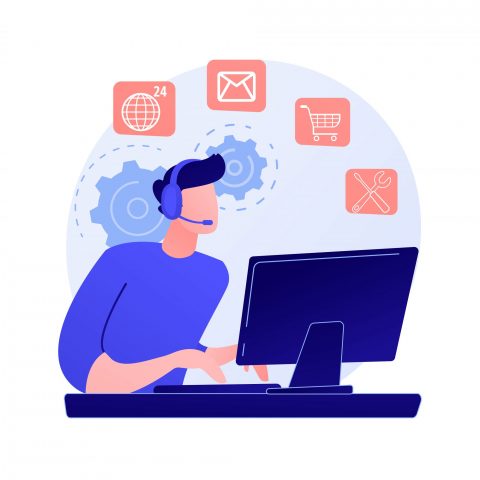 7. Rollout practicalities 
You'll want to ensure that you have acceptance testing users or pilot users ready to go, based on the type of documents you selected. Ensure you have kept your internal communications team updated on the progress so they know when everything must be completed. 
It's also essential you know your responsibilities as well. Communicate with the software team, decide what deadlines you need to return any feedback and ensure that all stakeholders know the timeline. Another critical point is to ensure your third-party software partner is aware of any on-going developments in your requirements or any integrations you need as part of your company's work.
Our biggest tip is to ensure that you have an open communication line with your contacts at your chosen document automation software firm. Communication and clarity of aims will ensure your project is set up to be a success from the beginning. 
Budget approval
Implementing a document automation project can be significantly cheaper than it previously was due to advancements in self-service technology. However, the chances are you will still need to get budget sign-off before you can start your automation project. 
There are many ways you can increase your chances of putting together a successful business case:
Identify the problem

– it sounds obvious, but all business cases need to start with the issues. Which documents are taking too long, which documents are error-prone, which documents do you need more visibility over.
Data on the existing problems

– how long does processing take at the moment, how often are errors made, how long does it take to produce reports on these contracts now? If you don't have the data right now, start to track it, even if it is only rough estimates.
Select the right documents

– most documents can be automated, but start with the quick wins. Select documents that are ready to be automated are used in high-volume and need some degree of customisation for each use. We like to start with documents that are at least more complicated than an NDA. Think: Terms of Business, Engagement Letters, Licence Agreements.
Estimate your ROI – Compare your current process data, to your expected data post automation, to show the potential ROI. Then compare the cost of doing nothing against the possible cost of any solution. If you can demonstrate your implementation will cost £2,000, but you will save £200,000 – then it's a 'no brainer'!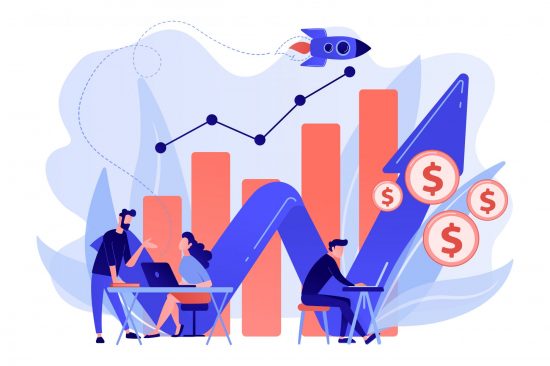 A document automation project can be broken down into the following key areas:
Template consolidation

Automation

Integration

Testing

Rollou

t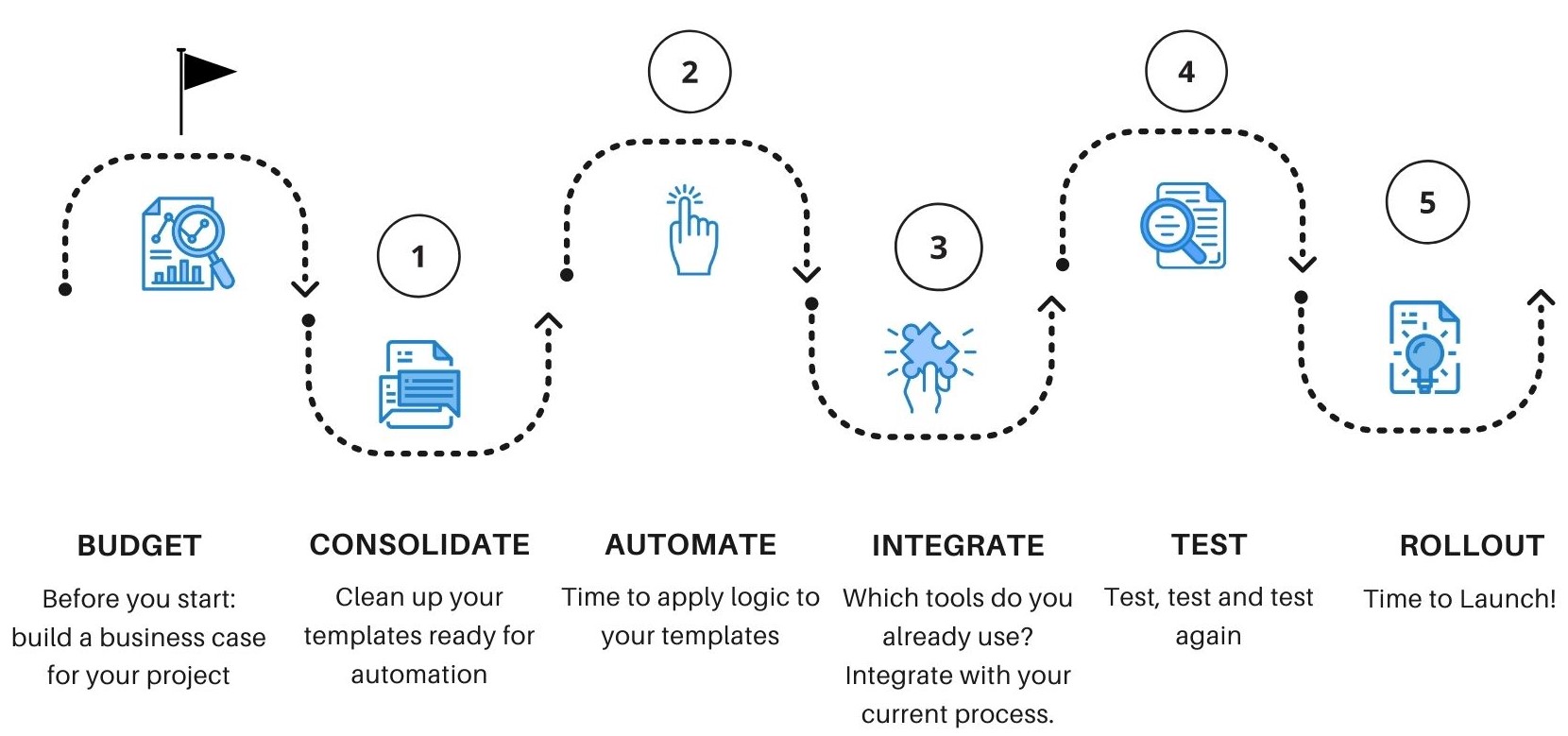 1. Template consolidation
So you've selected your documents, created a strategy and decided which documents to automate. You open up your template bank, and see twelve different types of employment agreements and ask one of the most common questions in document automation – 'should I keep these in separate templates, or merge them?' 
Merging multiple templates is often called 'template consolidation' or 'template rationalisation'. It involves taking your entire universe of known types of 'Agreement X' and consolidating them to the lowest number that makes sense. 
Consolidate documents wherever possible. We don't mean you should merge your employment agreement and your termination letters into the same document. Still, you should aim to keep similar documents in the same template and automate them so that the end-user is guided into creating the perfect document. As a rough rule of thumb, if the documents share around two-thirds of the same provisions (or could be if they were re-drafted), they should be housed in the same templates.
Let's look at a practical example. 
I have the following template agreements in my folder:
Employment Agreement – with bonus scheme

Employment Agreement – standard

Employment Agreement – with a probation period and share scheme

Hong Kong Employment Agreement – basic

Consultancy Agreement
Assuming these all contain standard clauses and cover the same topics, you would create one master 'Employment Agreement' with a selection of provisions that could be dropped in.
2. Automation
Now the fun part – starting automating! How you get started will depend on which software you have selected (see our guide here). However, some top tips apply across all tools:
Plan
Should I template all the documents at once, one-by-one, or in groups?
Once you have identified which document you would like to template, you need to decide on an automation strategy. Should you spend the next three months templating, then release all the templates at once? Should you focus your time and attention on one contract type at a time? Or should you do something in the middle? There is no one-size-fits-all. It depends on the business drivers behind automation and the selection of particular templates. In our experience, delivering templates in groups is the best approach. 
One-by-one

Positives: The whole project team is focused on delivering a single template. Intensive team focus means a high quality of template is likely to be finished in a short space of time. Automating just one template at a time is the best idea when a particular flagship contract needs automating, and there is an imminent business need for it. Identify any issues in your overall templating approach early on. Then take your new best practices and apply them to subsequently automated documents.

Negatives: Often, different contracts are owned by different legal and business teams. Only focusing on one contract can lead to idle time for the other teams and possibly disengagement with the project if the chosen document takes too long. 

All templates at once

Positives: All energy can be spent on the templating process, rather than managing rollout and training on some templates, and automation on others. The all-in-one-go approach may allow you to structure resource better as you will know the legal and business teams will be needed intensely for a few months, but then it will be handed over. There are also potential rollout benefits as the entire business can be trained at the same time.

Negatives: Progressing all of your templates at the same time is a risky approach. If you spot an issue when you go live, you will need to go back to all templated documents to fix them. It could be a simple error, but it could take weeks and months to rectify across all template types. 

Groups

Positives: The best of both worlds. You can focus on delivering a handful of contracts in one go. Doing batches of templates works best when done with similar contract types or within a particular business area. Learnings can easily be shared across the documents, and rollouts within one unit are possible at the beginning to allow

User Acceptance Testing

before being used by the larger user base.

Negatives: Can again be too focused on one particular area. Have to manage multiple work streams at once, templating in one area, rolling out in another, training somewhere else. 
In what order should I automate my documents?
Now you have selected your templates, your approach to automation, but there is one final thing to decide on – which templates to tackle first. We recommend beginning by only picking a group of three or four documents templates. Things to consider:
'Readiness'

All projects, automation or otherwise, need early success stories to build engagement levels. If you have contracts that have already been rationalised, and drafting instructions exist (or could easily be created), then these contracts should warrant serious consideration. The ability to quickly deliver a handful of automated templates at the beginning of the process will buy the time and confidence you need to work through the larger documents.

User group

How many users will be using the template you have selected. An NDA is a classic example of a 'group one' contract type, but you should consider that NDAs are used by the whole business and the implications of needing to train and rollout the document to the whole business at once. It may be a good thing, as if each business area can get used to the system you have chosen while their core business documents are being automated, you will have more engagement due to their success with the NDA. 

You should think about what you want to achieve in terms of user engagement at the planning stage. If you want the political buy-in of multiple user groups, ensure the first group documents are not confined to one business area (like NDAs and basic commercial contracts like assignment agreements). If you would rather work with a particularly receptive business group to automate all their documents first and iron-out any early issues before tackling more challenging areas of the firm – also a very valid strategy. 

Complexity

The best mix for your first set of documents is a group made up of mostly simple, easy contracts, but at least one slightly more complex agreement. It is always advisable to get the simple documents functional fast for quick PR wins. However, there will always be the more cynical among the group that wants to see something a little more interesting automated. Two-three simple documents and one that's more medium complexity is the perfect blend.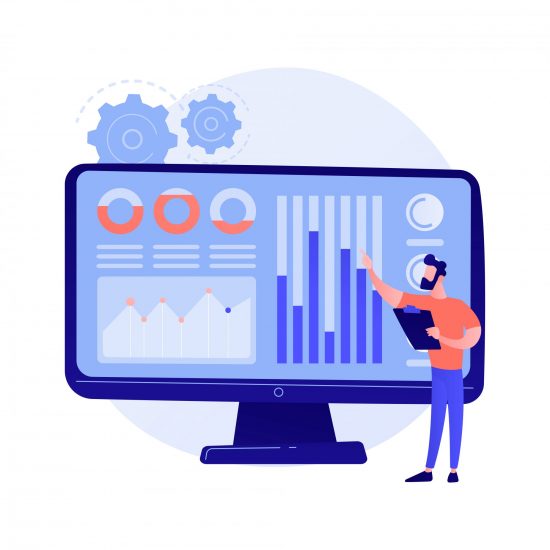 How much should I automate?
How much should I automate each document?  There's a temptation to make the perfect template, with every single word and possible option, automated. While the 'automate everything' approach will work in some cases, usually it leads to inefficient templates that are hard to maintain. Start small, keep it simple and aim to automate 60% of your document and then iterate. You will be amazed how much time you could save with even just five to ten key questions that lead to large parts of the document conditionally dropping in. 
For each section, you should weigh up the complexity of automating that section versus doing it manually. A great example is the recital sections of documents – these can be some of the most fiddly aspects to automate – but is it any quicker than just typing it out in the document?
Think about the end-user
Keep in mind who will be answering the questions to create the document. Will it be the commercial team? New joiners? Legal only? Always word the questions in a way that makes sense to a user. Nothing will bring inefficiencies back into your automated process quite like ambiguity and confusion in the question. 
A great example is something as simple as:
Please select the governing law of the contract?
English law

New York law

French law
Where are the deal team based?
These two will both result in a change to the jurisdiction clause, even though they are phrased completely differently and aimed at different audiences. 
Use standardised data points
One important part of automation you should think about before you start automating your document is identifying replicated data points across your document, and standardizing them wherever possible. 
Why is that important? It will save you having to write multiple questions for the same condition or data point. Not only that, but it will massively improve the end-user's experience. Remember that document automation is meant to save your end-user time. No one wants to spend an hour answering fifty different questions when the same data can be collected in 5 different questions.
What do we mean? Think about it this way. At the beginning of your document, you see that the company name can become a placeholder that the end-user can type in. So, you create your [company name] attribute.
Later on, you see square brackets around [full company name], and you create a placeholder called "full company name". Now, your user will have to enter the data for both [full company name] and [company name] as answers to two different questions. 
Avoiding that repetition and ensuring you the highest accuracy for the documents you draft is why it's important to standardise your data points. Before you jump into automating your documents, identify common pieces of data that will repeat and pick a standard name for each placeholder. 
With practice and time spent familiarising yourself with the different data points in your document, you're much more likely to condense your questionnaire and eventually end up with few questions automating various different aspects of your document. 
3. Integrations
The integrations you'll need will largely depend on your existing software tools and how you plan to implement your chosen document automation tool at your business. You should be looking at receiving data from one of the tools you already use to fill out the questionnaires, sending completed questionnaires and the relevant data to your CRM system, or integrating with an e-signature platform like DocuSign Adobe Sign. Here are a few considerations to make when deciding which integrations to implement:
The tools already in use at your workplace

– which tools do you already use? If there is a CRM tool relied upon across your organisation, it will be important to integrate that with the document automation tool. Picking a tool that fits in seamlessly with the software you already use will ensure you're not adding any additional work for your employees when you are meant to be saving them time. 

What you'd like to get out of your document automation platform

– are you interested in integrating with an AI tool for additional insights? Or maybe you're looking to have a more seamless workflow, rather than having to bounce between different tools. Your needs will determine whether you need any integrations!
Now if you have decided to include some integrations, it's important to consult with your document automation team: 
Do they support integration?

A big one. If a provider can't integrate with your essential tools, you'll likely have to look for different software. 
What is their current testing strategy?

Will your team ensure that the integration successfully works before completing the project.

How will the integration work? Will it be seamless? Ensure you are on the same page as the software company by asking lots of questions and having them walk you through how the integration will work.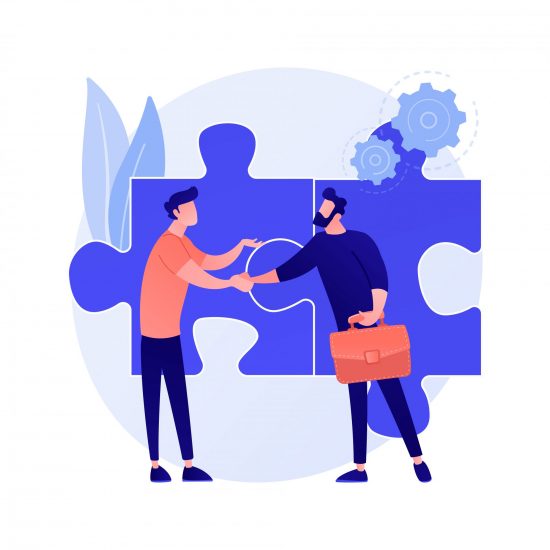 4. Testing
You're nearly there now. You've automated your documents, and they're ready to revolutionise your workflow. One crucial step is still to go – testing. Testing doesn't mean just testing the document yourself, but getting the end-users involved in the testing. There are a few essential things you need to do when testing your new document automation system: 
Variety of users

– ensure you get a range of users to test your new tool. Pick testers with a range of seniority, roles and technological competence.

Repeat recent deals

– it's always great to test a real-world scenario. Try replicating your last deal using your new template to see if it would have helped you.
5. Rollout
The exact manner and timing of your rollout will depend on the scale of your project. There are a few things you can do to make the rollout as smooth as possible:
Communication is vital

– send out early emails and hold briefing calls/meetings to educate people on the project and timelines.

Rollout to a pilot group

– even though you've done all the testing in the world, there will still be a few things that slip through the net. To try and catch as many as possible, start using a pilot group of users at first. 
5.1 Adoption
Adoption is arguably the toughest, and most important, part of your project. Getting users in any sector to adopt new technology and avoid getting rid of it is hard work, so we've put together a list of the best practices we've seen clients implement over the years to ensure that their users feel engaged, comfortable with new software, and above all, know how to use it to its full potential! 
Here are our top ten tips for adoption:
Interoperability or 'stickiness':

Does your new software: 

'Play well' with other tools/programs in your technology stack? 
Integrate with CRM tools or other document management facilities? Technology is often instantly adopted if it can 'plug-in' to what users are already used to in their day-to-day!

Training, Training, Training: 

A strong onboarding strategy is vital for your software adoption strategy. With that in mind, your training program should introduce the new tool to different parts of the business in waves. In short, don't drown your sales team with super technical automation training, but don't skim over the details with your legal team. Make your sessions follow the typical user journey you'd like your colleagues to have on the platform (practical webinars and online 'classrooms' are great options).

Listen to your end-user: early roundtable discussions with staff in different practice groups, business users or departments make for smoother change management. When users feel they've been consulted from day one on a project they ultimately own, the organisation is rewarded in the long run.
Content is King: Create helpful guidance materials for your users. Using various media helps engage a spectrum of different learners. In our experience, short-form 'one-pagers' and instructional videos with voiceovers work best. Are you stuck for ideas? Try

'Loom'

, free screen-recording software that makes filming quick training videos easy!

Build a network of champions:

These champions can act as your super-users in different business units. Making sure that different areas of the business have champions that know the new software inside and out create an atmosphere where users feel like they have someone within their space with whom they can go to with their questions and concerns.

Ensure you set your success criteria early: 

How much faster does the new software need to be compared to your manual processes? If these performance indicators aren't written down somewhere, it is hard to gauge just how well it is doing. There is no better proof than benchmarks and comparisons that will make other people within your business want to use the software you've chosen. Success begets success!

Set clear objectives and milestones: Never forget that work often expands to fill the time you have.

Set

practical but firm deadlines

which force your users to set time aside to try something other than their day-to-day process. Setting effective deadlines is essential in the 'pilot' or proof-of-concept process. The pressures of delivering other projects often gets in the way of testing new technology, so ensure your team properly checks out all your options before you make a decision.

Metrics and follow-up: They

 give you a good insight into how your project is doing, and provide a backbone to your business case – does your software have a 'dashboard' to assess who is using it and who isn't logging in at all or engaging? Tracking engagement isn't a finger-pointing exercise; It's a way for you to spot and train people who may be struggling. In our experience follow-up sessions or drop-in 'clinics' allow users who haven't had the best experience the first time around to get to grips with technology in a safe environment

Reward your users:

It's said that adopters with great experiences become advocates. We recommend rewarding adopters to incentivise those that haven't had a chance yet. Company or business-unit wide 'shout-outs', greater responsibility for junior staff who are often the first to leverage technology, and 'Hall-of-fame'-style programs that visibly reward those who are using the software and surfacing their personal 'wins' are great ways we've seen users incentivised to keep using new tech

Be quick to resolve any adoption barriers: As in all organisations, conflicts and blockers often arise. Barriers to adoption must be resolved early,

during the POC or feedback phase. Will resistant users require more targeted and personalised training? Would it be worth checking in with users in different business units at regular intervals? Who needs to be reassured, convinced, or involved? These are critical questions that need to be asked regularly to ensure that the adoption of any new tools is optimised.
5.2 Continuous improvement
You've rolled out your chosen software or product and nailed down how to get your colleagues using it across all sorts of business units and practice areas. You're probably wondering how to keep it all going! To keep your expectations and the expectations of your prospective clients, below are three expert tips. These tips will ensure that you keep continuously improving, refining and tweaking your process to guarantee you're getting the most out of what you've bought:
Keep your finger on the pulse:

Routine catch-ups, webinars and check-ins, especially with end-users and their direct managers, are essential to staying in tune with how your stakeholders feel about new technology. Keep on top of the mood will help you evaluate any bottlenecks or gaps in understanding and assess whether or not to amend the current process.

Stay in touch with updates:

Technology evolves quickly. By staying up to date with the latest software updates, you can continue to evaluate the company's needs against what the tool provides. 

Implement and iterate:

Once you've completed the steps above, you should have a clearer understanding of how your team feels about the tool you've implemented. Through the strategic deployment of changes to your process, having identified any stumbling blocks or bottlenecks, you will be in the perfect position to improve continually. It's also important to keep iterating and adapting your process to suit your business' shifting needs.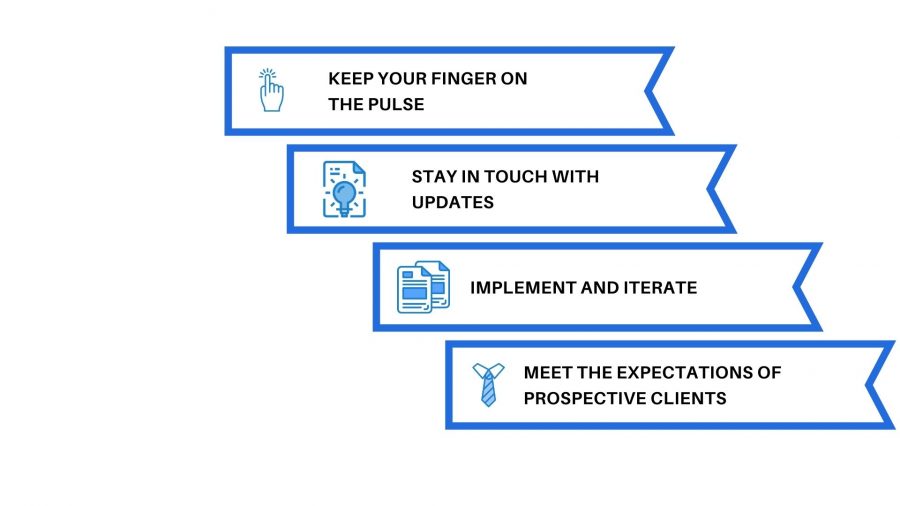 Selecting technology for document automation
We can't tell you which technology you should select (because we're a little bit biased). Instead, we can tell you which questions you should be asking your software vendors, and internally:
How easy is it to automate my document?

The most critical question you should be asking. Every platform you see will tell you that the automation is 'easy' or 'no-code' – but both terms can be a bit deceiving. The easier the tool to use, the more people will learn how to automate. Therefore, the more documents you will end up automating. Even if you have decided to outsource the automation, you will have to make quick changes yourself. With that in mind, ask the vendors if you can try the software and get them to walk you through adding some automation on screen with a live demo. If they won't do that, it's probably too hard to use!

Features

– all tools will have different feature sets, but there are a few key ones to look out for you will probably need on your automation journey:

Loops – ability to dynamically add more answers to a question. E.g. Please add the name of the directors.

Formatting – custom numbering styles, tables, headers and footers, and so on!

Calculations/Operations – think of these as similar functions to excel, transform the case of an answer, change numbers to words, format dates etc.

Integrations

– it's critical that the document automation software you select can integrate into your existing processes. Even if you don't have anything now, as you add more and more tools, you will want to ensure that integrations are covered. Check if the tool has a modern API, and ask for examples of integrations that have been already done. Common ones include pre-populating a questionnaire from another system or taking data out from signed documents.
Costs

–

Ask whether there be additional costs such as customer support or server maintenance fees. You should also establish whether you will be paying a fix monthly price or whether the price you pay will be based on the extent of your usage of your document automation tool.

Hosting – Ask if your document automation tool will be hosted by your provider in the cloud or whether the vendor will be making an on-premise installation.
For more information check-out our Documen automation software buying guide 2023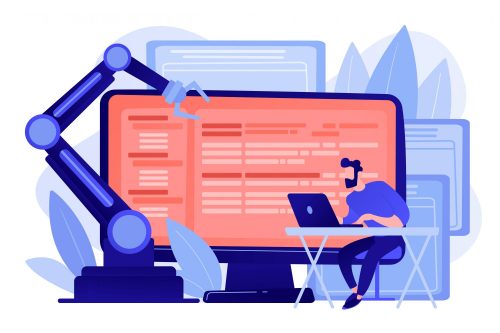 Why you should be looking to automate your own documents
One of the main questions you will be asking yourself is who will be doing the documents' actual automation. You have two fundamental choices:
outsource it (to the tech vendor, or a consultant); or 

learn to do the automation yourself. 
Outsourcing
Positives
Quick initial set-up

– the external contractor will already know how to use their automation tool of choice. Therefore, they could start automating documents as soon as you have prepared the document for automation.
Negatives
Can be very expensive

– day rates can reach £1,000 per day, and significant documents could quickly end up costing you tens of thousands to automate

Slow updates/maintenance

– If you want to make a quick change to the automation at short notice – maybe you spot a typo, or there's a change of law, you will have to join the queue for automation to be done, and there will also be an additional cost.

You still need to prepare the document

– many people think they can just hand over a document, and someone can automate it for you. While they can try, it will always need to be reviewed by you. You will need to spend time deciding on questions and approaches to automation. Think of an external Automator as a builder – just as you would do with a house, you need to provide them with the designs and decide how you want it to look. 
Learning to automate
Positives
Cost-efficient

– many technologies charge per user or on a licence basis. Once you have the licences and the know-how to automate, you can add as many templates as you want, for the same price.

Knowledge retention

– the knowledge of how the document was automated is retained within your organisation.

Quick to make changes

– you can change that typo or update it to your new wording in ten minutes rather than waiting weeks for someone else to do it.

More use-cases

– once you know how to automate, it means you can explore automation for a wide variety of use-cases without having to worry about the cost and justifying external ROIs. 
Negatives
Automation takes time to learn

– there is no escaping the fact you will need to learn how to use your tool of choice. Even the most intuitive tools will take a couple of hours to understand.

Slower initial results

– your first few documents will take longer than just outsourcing the problem. 
Recommended approach
In our experience, we think there is no doubt that learning how to automate yourself is the best way to go. You will save money, quickly apply changes, and be able to spread the knowledge across your organisation.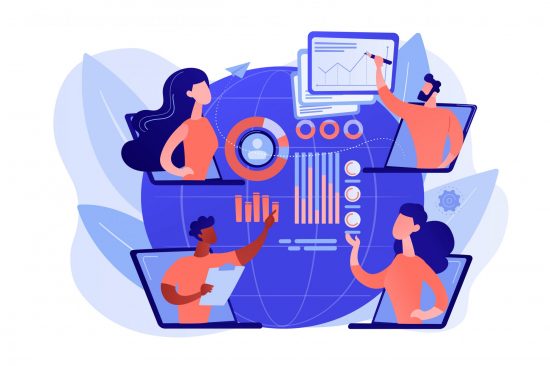 Document Automation: Myth-Busting
I'm sure you're wondering why everyone isn't using document automation software already. That is likely due to a few different misconceptions.
MYTH: I need to know how to code to automate my documents
TRUTH: You can automate your documents without any coding knowledge. 
Legacy automation tools made it necessary to learn to code. However, newer tools now allow you to automate your documents with a simple visual approach as easy as highlighting a text, simplifying the automation process.
MYTH: Automating my documents will take me too long and cost me more time than it saves
TRUTH:  Automating your own documents will ultimately save you time
Automation using legacy tools can be arduous. You have to spend time finding a team to outsource the automation to, craft the automation instructions and review the product, or learn to code yourself. Since there is no need to code with newer automation tools, less time is spent figuring out the system. Plus, once your documents are automated, all you need to do going forward is completing questionnaires. Instead, newer automation tools allow you to automate with ease. Plus – once your documents are automated, you will save so much time you used to spend drafting your documents. 
MYTH: I'll have to answer too many questions to get my completed document
TRUTH: The number of questions to be answered to generate an automated document depends on how you automate your documents
While complex documents may require more questions, we see a shift towards people automating documents by phrasing their questions as broadly as possible, allowing them to generate that document in an even shorter time. Fewer questions mean even faster responses. 
MYTH: My documents are not suitable for automation
TRUTH: Any document can be automated
All documents, from a standard form contract to a complex share purchase agreement, can be automated. Some documents may be more complicated to automate than others. When selecting the documents that will benefit you, it's essential to analyse which documents have the most customisable terms. 
MYTH:  Deploying an automation system will cost me too much money
TRUTH: You can manage the costs of your automation systems easily.
Depending on the software company, different and customisable plans can be selected to meet your company's needs. You can choose the correct number of users that will require access to it. One great way to save costs is to automate the documents yourself, which sounds daunting. The many available no-code tools are a valid option. 
MYTH: Too much time will be spent on training my team and me for automation
TRUTH: Newer automation systems are designed to be user-friendly and easy for users to pick up
The interfaces of new systems are intuitive, allowing users to gain proficiency with the software quickly. Although document automation solutions vary in their complexity, most service providers will include training sessions as part of your subscription.
MYTH: Storing contracts in the cloud is not secure
TRUTH: Your contracts may be more secure in a cloud than in a localised system
Most of our data is already in a cloud! For example, email providers store contract drafts sent via email on their cloud servers. There is no need to worry about your documents' security as document automation systems today offer bank-grade security. Cloud servers provide a tested, certified, and secure repository. 
MYTH: I will have less control over my documents if I automate them on a document automation service
TRUTH: Storing and automating your documents on an automation service does not restrict your access to them
Newer automation systems often include features to enhance your control over your documents. For example, in some systems, users can set up automated alerts to notify them when a document has to be signed. 
MYTH: Document automation tools aren't able to handle the complicated documents that my company uses 
TRUTH: Handling ever-more-complex documents is now a priority for many different document automation platforms (we know of at least one document automation company that can handle not only complex documents but also bundles of documents together). 
Although some systems can only handle short and straightforward documents, other software companies can now seamlessly automate the most complex ones! You should consider how powerful tools are when looking at your different options. 
MYTH: Small businesses like mine don't need the document automation software
TRUTH: Small businesses that are already short on resources benefit significantly from a document automation system
With a document automation platform, your clients can generate standard documents for themselves or easily collaborate with the company's legal counsel, reducing your employees' workload.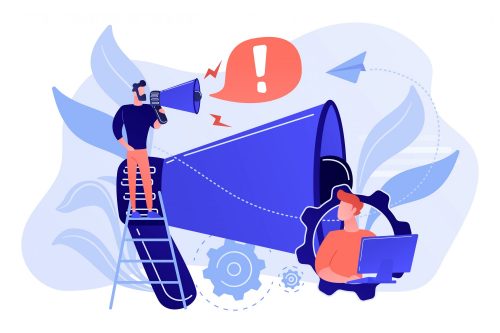 Glossary of key terms
There are many jargonistic terms frequently used by document automation software companies when describing their products. 
We're guilty of using jargon sometimes too, so we thought that a handy glossary would help you understand document automation terms better. 
Attribute:

The name for a data point in a templated document. For instance, 'Company Name' would be a suitable attribute name for the data point that collects the answer to the '

Please provide your company name

' question in a questionnaire. 
Attributes can be used where you'd like to

create an input field into the document (like 'Company Name', the answer to which should drop the relevant company's name into the document).

Attributes that only allow you to indicate a whole clause to drop in, using a condition

E-Signature:

An e-signature is evidence of your legal agreement to an electronic document, similar to signing a paper document with a pen. It's not to be confused with a digital signature.

Note – refer to Avvoka sign, DocuSign., AdobeSign.

 

 

Legal Technology:

Using different software and technologies to provide legal services, perform legal tasks, and generally support the legal industry.

Questionnaire:

In the document automation world, questionnaires ask for the bespoke information required to customise a pre-automated document.

Template:

A document pre-configured for the insertion of bespoke information into it based on the answers to an associated questionnaire. Often, such insertion will be done automatically by document automation software.

Variable:

Another name for an Attribute.

SSO:

Single sign-on (SSO) means you can use a single pair of login credentials to access multiple applications. For example, when you use your work login credentials to access a third-party application. 

The cloud:

The cloud is multiple servers in data centres worldwide which run computer programs. These are then streamed to your personal computer over the internet. When software or service uses the cloud, they are essentially streaming over the internet, using servers' processing power in a different location. No, there is no fluffy white object in the sky.

Hosting:

The host is essentially a computer accessible over a network via its 'hostname'. 

Cloud-hosted:

Where a company's software or services are run on the cloud, which comprises different servers worldwide. 

End-User:

Software and tech are designed for people – the end-users. In the document automation world specifically, the end-user is the person who answers a questionnaire and generates the automated document.
API:

API, or "Application Programming Interface", refers to commands that two systems use to interact with one another. APIs allow software to interact and push or pull information to/from other databases or software.
Templating:

Templating refers to the process of taking a standard precedent document and introducing automation instructions to turn it into an automated template.
Placeholders:

A placeholder marks an input field in a document. Creating a placeholder creates an attribute and a corresponding question. Responding to the question inserts the answer where the placeholder was inserted in the document.

Conditions:

Conditions allow users to set rules for any text block to appear only if a particular criterion is fulfilled. Conditions generally arise where users answer a questionnaire item in a way that triggers the inclusion/appearance of select conditional text.

Document management system:

This is a piece of software that is used to keep track of and store e-documents which allows the user to manage them.

Integration:

An integration is where two different subsystems are brought together to create one system.